Hammock is one of the choices that must come to mind when talking about relaxing outdoors. A hammock gives you an experience that no interior furniture could provide. It not only allows you to peacefully enjoy the happiness of relaxation, various of styles and colors could also add color to your yard. If you want to choose the best hammock for you in the shortest time, then please keep reading this blog.
Comfortableness
Varieties of fabrics are available in all environments and seasons. Different fabrics could give you different comfort. Quilted hammock, made by double-layered quilted polyester with inner polyester padding, that will offer you superior comfort. Caribbean hammocks are handmade with comfy and durable spun polyester rope, which have the characteristics of worry free use-great looks and longevity.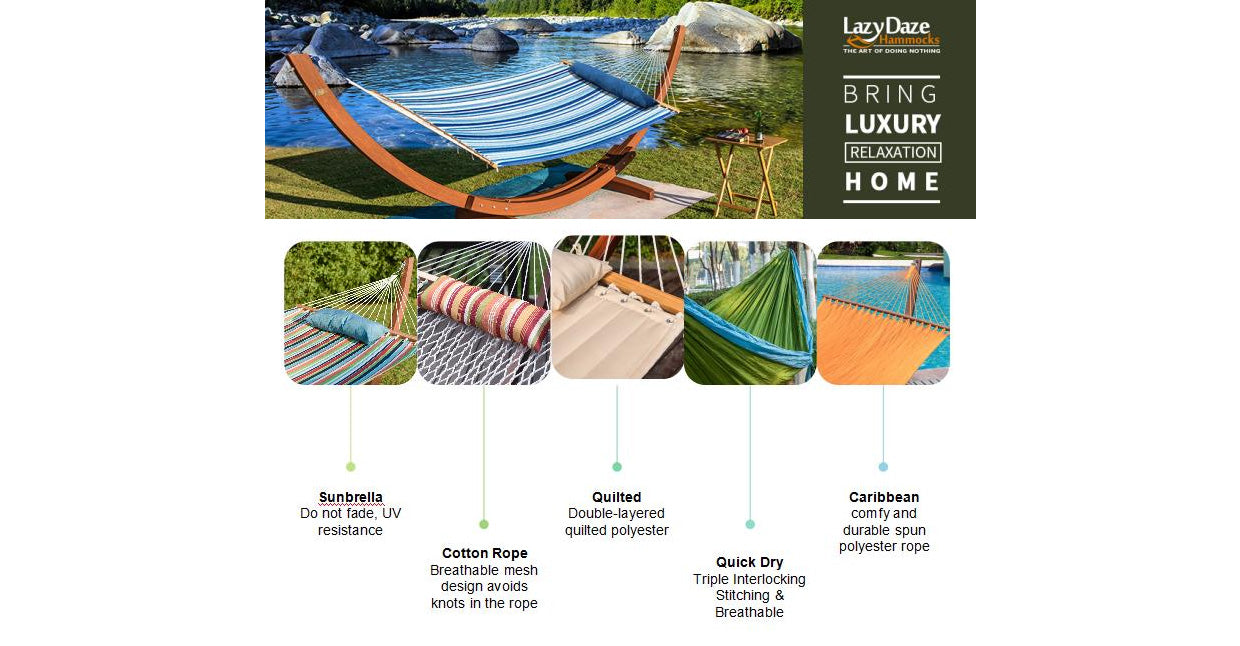 Stability
Outstanding white oak and steel structure.
Hardwood spreader bar with powder coated in an oil rubbed finish, making it more stylish and stable. Different styles of hammocks, with different sizes of spreader-bar. Curved-Bar bamboo has a convenient stitching design, which allows you to disassemble and assemble the hammock without any difficulty. At the same time, it has a very good stabilization mechanism, so you don't have to worry about flipping or falling.

For different styles of hammocks, they will be matched with different sizes of brackets. These stands can be easily installed anywhere. Lightweight enough to move around frequently, they are typically made of steel or wood and could safely support the hammock wherever you want.
Poly-chrome
Does the color of the hammock matter? Very important! Hammocks have lots of colors and types, and different colors of hammock have different effects. Brightly colored hammocks are exposed to light and display bright colors that will lift your spirits. If you're looking for a cool summer camp, a white hammock is perfect for you. Dark-colored hammocks, however, absorb more heat from the light, making them ideal for winter camping. How to protect yourself from UV rays during summer camping is a source of anxiety for many people. In addition to applying high-power sunscreen, choosing blue camping products can also help. You can pick any color you want in Lazy daze, more than 100 colors and styles are available.

Credible
In order to provide customers with safe and reliable products, hammocks will be optimized in many details. Handmade 100% polyester ropes enhance the balance and strength of the hammock. To increase the durability of the wood, dip it by hand in the highest quality varnish to ensure a thorough and lasting coat. We have selected a selection of Sunbrella's premium fabrics for the manufacture of high quality hammocks with amazing comfort and fading resistance.

The Spirit of Relaxation.
---